Between 1980-1998 tenants bought more than 6,000 council homes in Coventry. In 2000, the council transferred around 20,000 properties to Whitefriars Group (now called Citizen).
Homelessness and housing unaffordability has also increased whilst only 27 new homes for social rent were built in 2018/19.
Housing crisis in Coventry
Coventry had the second-highest rate of homelessness in the West Midlands in 2018. At the same time, the region also had the second-highest rate in England.
The number of families staying in temporary accommodation in Coventry has also increased by 186% since 2015/16. In addition, housing unaffordability in the city has doubled in the past two decades.
What's more, councillors have been told an extra £1.3m is needed to deal with homelessness due to the pandemic.
What are housing providers doing?
Housing providers made record profits of £3.5bn in 2017. What's more, the top 5 chief executives are receiving between £344,000 and £579,183 a year. However, housing managers at local councils earned no more than £30,000 a year according to The Spectator.
Some housing providers have also made savings by merging with each other. In Coventry, Whitefriars Group have merged with WM Housing and rebranded as "Citizen". Heart of England (Coventry & Warwickshire) have also merged with Orbit South.
What's more, Housing Today states that housing providers are becoming "master developers". At the same time, housebuilders are setting up their own "provider arms" to manage affordable housing.
What is the difference between social rent and affordable rent?
Social housing costs 50% of local rents. However, affordable housing costs 80% of local rents. The government includes affordable rent in its definition of social housing.
Full Fact also states there are now more homes for affordable rent being built than homes for social rent.
Why are housing providers not building more social housing?
Network Homes (London) told Inside Housing the average cost to build new homes has increased by 42%. However, the amount of government funding has also been cut.
David Orr from the National Housing Federation told The Spectator:
"Direct support from government has fallen over the past few years while, to our extreme frustration, rents are fixed by the government. [George Osborne's] decision to reduce rents by 1% a year [until 2020] has taken tens of billions of pounds away from housing associations."
However, The Spectator argues they should find a cheaper way to build new homes:
"When Channel 4 News asked associations how much it costs them to deliver a new home they said £150,000. Yet when they asked the Home Builders Federation (which represents private housebuilders) the same question, they quoted an average of £90,000 for a three-bed, land included."
What is the council doing?
David Orr also claims that councils are reluctant to sell land. However, this doesn't appear to be the case in Coventry. The council has previously sold off land and assets including "difficult pieces of land" for new housing developments.
There have also been reports on a deal to build a luxury hotel with taxpayers money. What's more, the council has agreed a 5-year lease to house homeless families in a tower block it once owned.
The council has also bought 5 former student homes. In addition, the council wants to buy two private blocks to provide more temporary accommodation.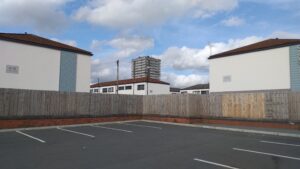 How can we build more social housing?
John Perry from the Chartered Institute of Housing says the government doesn't want to "antagonise" house builders or cause delays. Perry states:
"The only alternative is to provide councils and housing associations with more funding to build the houses themselves. Only a massive increase in such funding could replace the developer contributions on which so much new affordable housing now depends."
Salford City Council has set-up a housing company using £2m from local planning charges. It will provide homes for both social rent and affordable rent. The council owned company bought its first properties from another developer but plans to build its own homes in future.
Our proposals
We will propose plans to create a new housing company which will be owned by the council. This will help the council to build more social housing. We will also include more social housing in the Local Plan.
Download a copy of our full Policy Agenda here.
---
Make a donation
Help us fight the local elections by making a donation to the party.
---