There is a grass verge along the A444 between the Coventry Canal and Stoke Heath Park. Sadly, there is lots of rubbish from nearby fast food outlets along this stretch of road. It is also a main route into the city centre but it gives a bad impression to both visitors and local residents.
We are calling for the council to create a new walkway and cycle route from Heath Crescent to Austin Drive. This is because it used by local residents as a shortcut. In addition, a new barrier will deter motorists from throwing rubbish out of their windows. A new bin will also help stop littering along the route.
I recently collected 3 bags of rubbish whilst walking along the grass verge. There were also 3 cyclists who passed me going the other way. The rubbish I picked up included bits of polystyrene, fast food packaging, cans, bottles, masks and gloves. I also picked up a small cushion, a lounger cushion and a metal cover of some sort.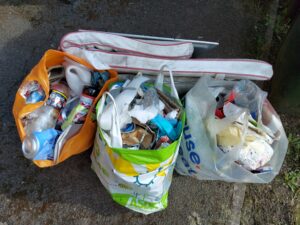 ---