We are pleased to be standing 16 candidates across Coventry plus a new candidate in Exhall. We decided not to stand in Foleshill to give the independent candidate a better chance of defeating the Labour group. Unfortunately, our candidate for Westwood withdrew due to other commitments.
We are still the only party in Coventry committed to building more social housing whilst also protecting the greenbelt. We are also committed to opening 3 new rail stations in Coventry and a new Express Interchange for buses and coaches in Exhall.
We have also been calling for more action on fly-tipping, a new pedestrian crossing in Wyken, more lighting on public footpaths between Binley and Willenhall, and changes to parking permits in Earlsdon. We also successfully campaigned for a new knife bin on Far Gosford Street.
Last year, councillors increased council tax by 4.9% after giving themselves a 2.75% pay rise. This year, councillors have increased council tax by 2.9% while food and energy bills are soaring. We believe the council needs to do more to rebalance the local economy to create more higher paid office jobs whilst also providing genuine affordable housing which will be owned by the council.
We would like to cut the number of councillors from 54 to 36 and hold elections once every 4 years under a new proportional representation system to help reduce costs. We would also restructure the cabinet, scrap all deputy cabinet positions and review executive salaries over £100,000.
We are confident winning our first seat in Binley and Willenhall with community champion Paul Cowley. Over the past two years, Paul has been supporting local food banks and community groups as well as running a community shop in Willenhall.
See our full list of candidates below:
Coventry
Bablake – Tony Middleton
Binley & Willenhall – Paul Cowley
Cheylesmore – Sian Jones
Earlsdon – Cameron Baxter
Henley – Charlie Ann Wilson
Holbrook – Alan Gavin
Longford – Nicola Spalding
Lower Stoke – Danielle Stringfellow
Radford – Irena Bosworth
Sherbourne – Marcus Fogden
St Michael's – Karen Wilson
Upper Stoke – Gary Cooper
Wainbody – Adam Hancock
Whoberley – Nate Lewis
Woodlands – Thomas Watts
Wyken – Lorna Williams
Nuneaton & Bedworth
Exhall – Dylan Frampton
---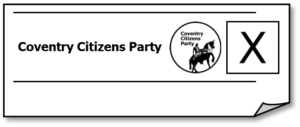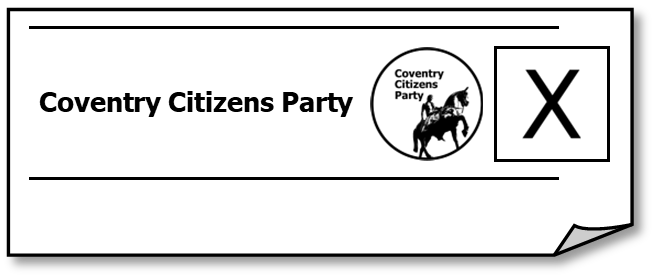 ---