We are pleased to be standing 14 candidates across Coventry. We are fully committed to tackling local issues unlike the national parties who can often use these elections to promote their national agenda.
It is very disappointing to see the Labour council increase Council Tax by the maximum amount of 4.9% given the ongoing cost-of-living crisis. Dozens of council executives earn six-figure salaries, and the new Chief Executive is set to earn more than the Prime Minister. Councillors have also voted in recent years to give themselves a pay rise. This shows how our current councillors put their own interests first.
We believe there are better ways to reduce council costs. We would like to cut the number of councillors and hold all-out elections every 4 years. We would also restructure the cabinet, scrap all deputy cabinet positions, and review executive salaries over £100,000.
Despite not yet winning a seat in council we have already successfully campaigned for change such as the installation of a knife surrender bin on Far Gosford Street, a new pedestrian crossing in Wyken, and raising support to save the Elephant building. However, there is much more we can do if we have councillors elected on the 4th May.
We are still the only party in Coventry committed to building more social housing whilst also protecting the greenbelt. We are also proposing a new station in Longford instead of Foleshill along with a new Express Interchange for buses and coaches in Exhall.
We have also been calling for more action on fly-tipping, more lighting on public footpaths between Binley and Willenhall, and changes to parking permits in Earlsdon.
We are confident winning our first seat in Binley and Willenhall with community champion Paul Cowley who narrowly missed out on winning the seat last year. Over the past three years, Paul has been supporting local food banks and community groups as well as running a community shop in Willenhall.
Full candidates list:
Bablake – Tony Middleton
Binley and Willenhall – Paul Cowley
Cheylesmore – Ian Stringfellow
Earlsdon – Cameron Baxter
Henley – Thomas Watts
Longford – Sian Williamson
Lower Stoke – Dani Stringfellow
Radford – Marcus Fogden
Sherbourne – Teri Fogden
St Michael's – Karen Wilson
Upper Stoke – Gary Cooper
Wainbody – Adam Hancock
Whoberley – Nate Lewis
Wyken – Lorna Williams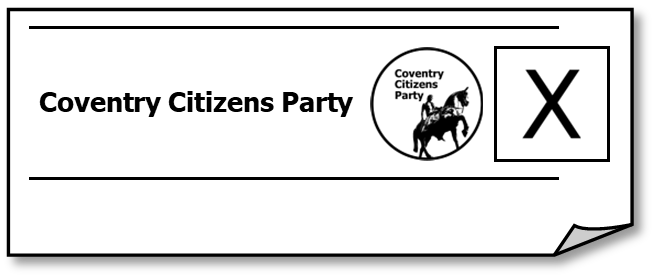 ---