Plans to regenerate the city centre and demolish post-war buildings have upset a number of critics and civic groups. We are also concerned about how the plans might affect the future of the market. In addition, we would like to see more affordable housing and flexible office space as part of the scheme.
A "Deliberate Ploy"
Developers recently submitted revised plans for the City Centre South scheme to the council. The plans now make-up 70% residential and 30% retail/entertainment uses but don't include a department store. What's more, the plans don't include any affordable housing despite £100m of public money funding the scheme.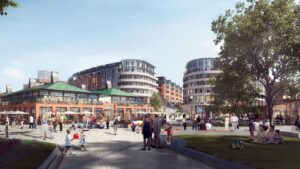 There are also fears that higher rents on new units could price out small shopkeepers. There have also been claims that it may have been a "deliberate ploy" to allow the city centre to deteriorate. This is because more people will support new developments if things are run-down and neglected for a long time.
Cllr O'Boyle described changing city centres as a "very millennial thing". However, traditional city centre models are not failing. This is because successful city centres have more office space. What's more, the council wants to create a new business district next to the rail station. However, it should be in the city centre to help drive wider economic growth.
Planning for the Digital Age
Gloucester City Council is considering a £107m budget to create a new "digital campus" in their city centre. The aim is to support growth in "an emerging digital and cyber security sector."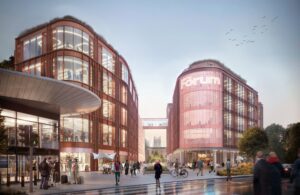 Furthermore, the plans include new flexible office space and a new innovation hub. This will act as an "incubator" for new start-ups in creative businesses. There is also a similar scheme in Coventry but it is not in the city centre.
The Future is Flexible
We are the only party in Coventry calling for more flexible office space in the city centre. This is because there is not enough high quality office space in Coventry.
What's more, research suggests that demand for flexible office space will increase over the next 10 years. This is because business models are changing. Employees also want shorter commute times and less crowded workplaces which promote better health and wellbeing.
"No Relation to Coventry"
A professor of Architectural History at Warwick University has said the current plans "bear no relation to Coventry". This is because it is an erasure of the city's post-war history. What's more, the designs are similar to many other towns and cities as shown in the images above.
The plans need to be more considerate of small and independent businesses in the city centre. We would also like to see at least one of the post-war frontages in the Bull Yard kept in the plans.
New Market Plaza
We believe the plans should focus on opening up the space around the market. This can help draw people into the city centre and increase footfall for retailers. We would also like to see a new garden or plaza on Queen Victoria Road with the old market clock reinstalled.
---