We recently submitted a petition to the council to resurface a footpath in Foleshill. The council plans to take action over fly-tipping on the path but has kicked any resurfacing works down the road.
Never Mind The Bollards
The council say they have installed a camera to monitor fly-tipping in the area. However, it doesn't appear to have been installed yet. In addition, the council plan to install a new bollard to stop cars driving down the path to dump rubbish. What's more, the council states that resurfacing works would be recommended in 2022/23 "if budgets permit."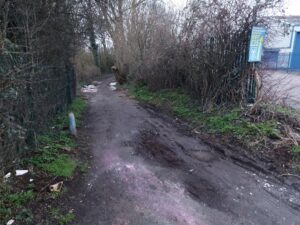 Rubbish Taking Root
The council also states that street pride teams attend the site on a fortnightly basis to pick up litter. However, there is rubbish in overgrowth which has still not been removed.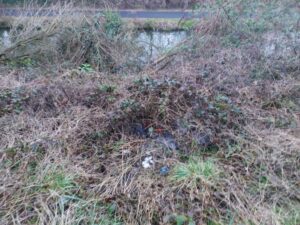 We recommend removing more of the overgrowth and installing a new fence along the top of the bank. This will act as a physical barrier which can deter people from dumping rubbish.
The council could also plant new tress and flowers along the bank. Improving the canal scene can help discourage people from fly-tipping.
Local Residents Ignored
The council recently announced £11.1m for improving roads as well as footpaths and cycle lanes. However, this does not include the footpath in Foleshill despite £2m for footway improvements.
The council describes the footpath as a known problem due to its "out of the way location". However, many people use it regularly including parents taking children to and from school.
What's more, the footpath has got so bad that residents have put down bits of carpet to walk over. This ultimately brings down the area and encourages people to dump rubbish there.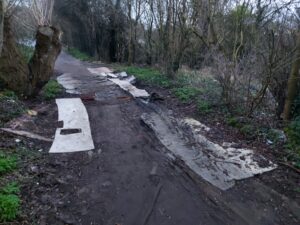 Clean-Up The Area
We would also like to see local businesses remove the rubbish on private land next to the footpath. The council could offer support to businesses to help clean-up the area. This will improve the canal scene and help stop people from fly-tipping.
---